Welcome to my 5 week photography evening course. This great course runs for 5 weeks and is perfect for complete beginners & amateurs (young and old) who have wonderful digital cameras and want to learn how to use them properly. This is a very popular course, it is relaxed, friendly & sociable making it a perfect environment to learn alongside like minded people of the same ability - no feeling awkward or silly.
A summary of the 5 week evening course
Learn how to take complete control of your camera to get the most from it

Be taught everything from basic camera settings, to complete camera control through to creative photography and even an intro post production and editing

Weekly practice exercises to consolidate that weeks module,

Convenient weekday evening meeting time
Safe classes of likeminded people- not know it all aspiring professionals
Support and help from a professional photographer throughout the 5 weeks of the training course by phone and email

A fun relaxed and open environment, its designed to be an enjoyable course

Full detailed notes provided to everyone, a great source to refer back to
5 Week Photography Evening Course Content
My evening photography training course is broken down in to five bite size modules. The course is designed to start with the basics, creating a solid foundation onto which we progressively add more and more knowledge & understanding of both the technical and creative aspects of photography. My aim is to get you confident with your camera and able to control it fully to maximise on its potential in a way that is really enjoyable.
Week 1 - Introduction
Learn your way around your camera

Understand what all of the menu options and buttons are for

We set up & customise your camera & all of its settings for you properly (away from standard silly defaults), this puts you in charge of your camera.

Image quality setting Raw or Jpeg???

Overview of the range of shooting modes

Automatic exposure modes & why you don't need them any more
Week 2 – Taking & Controlling Exposures
Learn about ISO, Shutter Speeds & Apertures and how they control your Exposure

ISO and how it works Shutter Speed, how it works & how to control it

How Apertures work, and how you control them

The relationship between aperture, shutter speed and ISO

How to get the correct exposure

Camera shake and how to avoid it

Exposure Compensation
Week 3 - Photographic Artistry
Using Apertures and Shutter Speeds to control how your image looks

How to use Shutter Speeds, both slow and fast

The effects you can achieve using Shutter Speed control

What is depth of field

How to control depth of field

The effects you can achieve by controlling your Depth of Field

Focus, auto focus, manual focus

How to get the autofocus to focus on what I want
Week 4 - All about Light
Learn about different natural and Artificial light – and how each of them affect your camera and the resulting photographs

White Balancing to compensate for the effect of the light

Metering, how does your camera measure & know what light there is

Tonal Range, how your camera copes in comparison to your eyes

HDR, High Dynamic Range photography and how to do it

How to create Silhouettes and other great effects, with ease and on purpose

Seeing light and using it to create effects, such as strong shadows in a portrait of someone.
Week 5 – Workflow To a great Final Image
Bring everything you have learnt so far together, to the point of taking great photos

Post production – take that great photo and now make it better, learn a complete photography workflow

Introduction to software such as Adobe Lightroom and Photoshop

Colour temperature correction, exposure correction, adding contrast, sharpening & saturation

Creating Black and White images

Learn how to remove unwanted parts of an image – such as a tree, a pylon or even a person.
In order to get the most out of the course, its important that you have a camera that can do what I am going to be teaching you. All digital SLR cameras, & 99% of bridge cameras can do this, whereas the smaller point & shoot/handbag cameras tend to be more limited - yes they take a good images but they prevent the user controlling the camera. If you are uncertain in any way, then please get in touch & I can advise you
Digital SLR Cameras
Owning a Digital SLR would be perfect for this course. There are lots and lots of different manufacturer's and models of Digital SLR but they are all suitable for this training course.
So if you own a Digital SLR, even if you just have the kit lens that the camera came with, whether you own a separate flash or not - it doesn't matter. The fact you own a Digital SLR means you will learn a lot on this course on how to take control of and use your camera properly
Bridge Cameras
Bridge cameras are cameras which fill the niche between the single-lens reflex cameras (SLRs) and the compact (point-and-shoot) camera. SLRs normally feature interchangeable lenses, while most current bridge cameras do not. However, most newer bridge cameras now feature full manual controls over shutter speed, aperture, ISO sensitivity, colour balance and metering although sometimes through slightly more complex menus, but the fact that you can control these elements means you can still get great benefit and useable knowledge from this course
Compact / Point & Shoot Cameras
Compact cameras today take great images, and are usually very simple and easy to use. However, they don't tend to give the photographer much in the way of creative control and decision making options and therefore the amount of the course that the owner of a compact camera would benefit from is minimal.
With this in mind, we advise owners of compact cameras that this probably isn't the right course for them. Some of our others courses and workshops may be better suited, especially the editing workshops.
Thinking or needing to add to or update your photography equipment, try the guys at MPB, I've used them lots and they are superb
Frequently Asked Questions
When?
The Evening Photography Training Course is a 5 week course – with each course having just 8 spaces so everyone gets great value out of the training & has plenty of time to ask questions. The Training Course runs conveniently out of standard working hours, meeting between 7pm and 9.30pm every Tuesday throughout its 5 week duration.
Where?
The training is held in my photography studio in Thatcham. The address is 2 Thatcham House, Turners Drive, Thatcham, Berkshire, RG19 4QD.
Who?
Over the years I have taught so many different types of people from all walks of life. The course is perfect for anyone, male, female, young and old with either a Digital SLR or Bridge Camera
Ability / Experience?
It is important to us that the course you choose is right for you, as this is when you will get the most from the course and its photography training content. This photography training course creates group of likeminded people and within reason equal ability levels. This ensures everyone gets the most from the course, feels free to ask questions and no one feels daunted, out of their depth or silly at any point during the course.
Beginners:
Are you someone who has just brought / been given a new camera and wants to know how to use it?

Are you buying someone a nice camera and want them to be able to enjoy it properly?

Do you own a digital camera and want to know how to control it better to take better more creative photographs?

Do you own a good camera, but always shoot in automatic (green square mode) and wish you didn't?
Amateur:
Do you love getting out taking photographs, but wish that you could take great images more consistently?

Would you like to be able to use your camera with more confidence?

Have you just upgraded your camera and want to use it well?

Do you want to improve your knowledge and creativity?
Amateur to professional:
If you are a knowledgable, confident, creative amateur photographer or you are an amateur professional looking to turn professional - then we would suggest that this is not the right photography course for you. The reason for this is simply that this 5 week evening course is designed for beginners & amateurs, therefore the content would probably not be suitable for you. But also, we strive to maintain a training group where everyone is on a similar level, we wouldn't want a student feeling embarrassed because others knew much more - or in contrast knowledgable people frustrated by a more novice photographer with questions.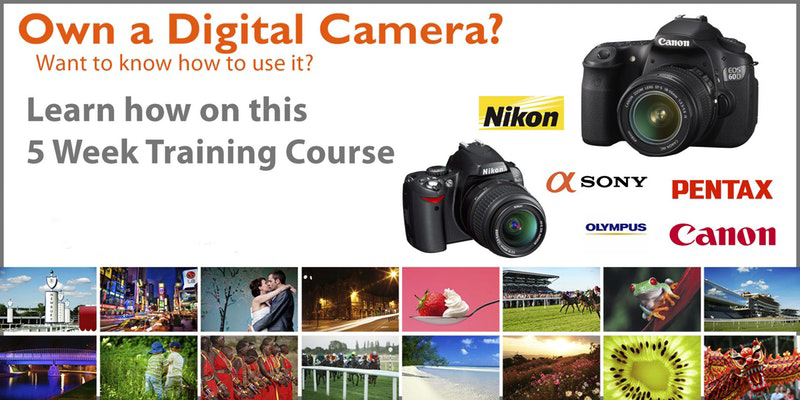 Digital SLR Photography
5 Week Training Course
Start Date: 3rd September 2019
Time: 19:00 – 21:00
Course Cost: £120 - £150
Digital SLR Photography
5 Week Training Course
Start Date: 15th October 2019
Time: 19:00 – 21:00
Course Cost: £120 - £150
Digital SLR Photography
5 Week Training Course
Start Date: 26th November 2019
Time: 19:00 – 21:00
Course Cost: £120 - £150
Digital SLR Photography
5 Week Training Course
Start Date: 7th January 2020
Time: 19:00 – 21:00
Course Cost: £120 - £150
Get In Touch
Adam Hillier
office: 01635 766066
mobile: 07979 150939
email: info@ahpphotography.co.uk
Office Address:
78 Sagecroft Road
Thatcham, Berkshire
RG18 3BF
Studio Address:
2 Thatcham House
Turners Drive
Thatcham, Berkshire
RG19 4QD